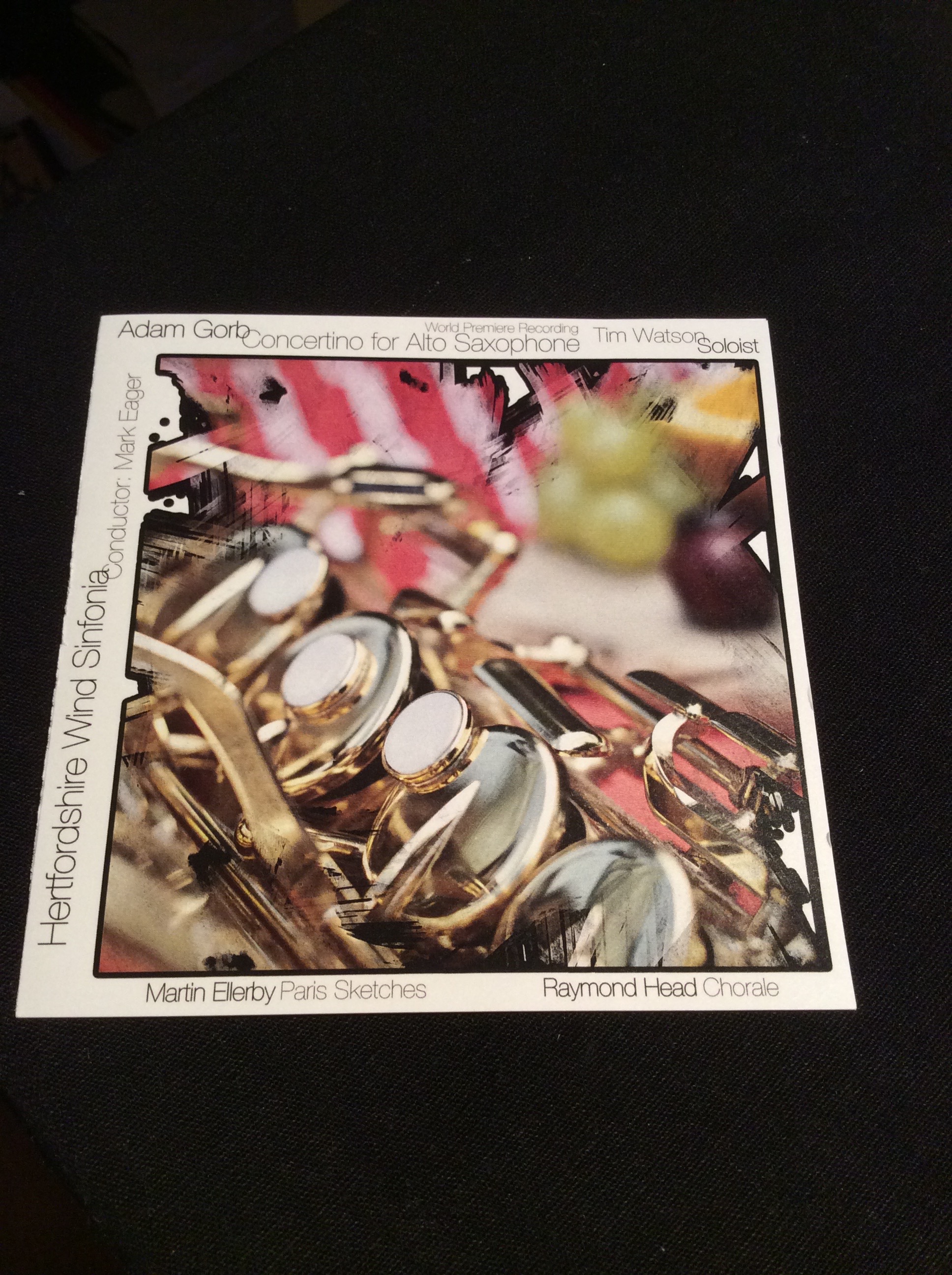 It is with great enthusiasm that I write this positive review for Tim Watson's Doctor of Musical Arts degree final project. Tim is certainly one of the foremost saxophone talents from Britain. I had the pleasure of meeting him during the World Saxophone Congress XV in Bangkok, Thailand in 2009. He appeared to me to be a gentleman and a down-to-earth human being. I enjoyed the brief time we spent together.
When he recently asked me to review his project CD/DVD for him, I immediate agreed with great anticipation. My eagerness came partly because of his pleasant personality but mostly because of his
genuine interest in promoting both standard and new saxophone repertoire. His programming in the projects attests to that fact. I must admit that I was not familiar with Tim's performance before this review and I am now very much impressed.
In my charge now I am treated with two excellent recordings. First is his CD These Mist Covered Mountains. The first piece Pastoral by Elliott Carter is probably one of my favorites on the disc. Perhaps because it was originally written for English Horn, later arranged for viola, clarinet or saxophone, this piece is not particularly known or much-performed in the United States. I am pleased, therefore, to see it in the program and to hear Tim's thoughtful performance of this work. Tim plays with beautiful sound and delicate articulations, which bring out both the bucolique and energetic natures of the work.
Tim's own composition Brainstorm follows next in the program. Here Tim not only shows us his
chops on the instrument but also his creative muscle. Perhaps because the piece started as a lecture
project for his master's degree, he seems to have put all the effects that the saxophone can muster
into one piece, which sometimes makes it a bit labored in terms of expression. And since the piece is improvisatory in nature, which allows the performer greater flexibility but also the responsibility
to develop each idea fully, I personally would have liked to hear more development and expansion incorporating the programmatic elements of a storm.
Peter Meechan's Crazy Diamonds Shining is an intriguing, minimalistic piece that encompasses many different elements. I think both Tim and the pianist did a fine job delineating those elements to the listener. And indeed it serves as a good transition to the next piece, Sea Shift, which is a jazzstyled piece by Robin Dewhurst. It is a nice contrast to the previous compositions as well as a midpoint or a rest stop, if you would, to the disc.
Fuzzy Bird Sonata has become the stable of classical saxophone repertoire since its conception in 1991. Some of the piece's jazz and pop elements continue agreeably from Sea Shift. It is a
technically taxing piece that requires the performer to have total control on almost all aspects of the instrument' normal range but most importantly its altissimo range. I think in this recording the intonation on the higher range can be further improved but Tim did a fine job overall playing with
vigor and dexterity.
Although the title piece These Mist Covered Mountains is not about gratification due to its depiction of the endless cycle of war, it is, however, a very pleasant sounding piece to end this fabulous
recording. Tim sounds terrific on the soprano saxophone and his use of vibrato and tone is perfect for this piece.
I also enjoyed hearing and watching the performance of composer Peter Graham's In League with Extraordinary Gentlemen for Alto Saxophone and Band. I was pleasantly surprised to learn of this
accessible and engaging piece. It is certainly a wonderful addition to the saxophone repertoire. Tim performed this piece brilliantly with the Band of Her Majesty's Royal Marines under the direction of
Lt Col Nick Grace. Although the balance of the ensemble and soloist is not overly transparent due to the recorded sound, the ensemble and the conductor seemed to be sensitive to what Tim was doing. Waxing confidently in that dashing uniform, Tim's sound soars above the ensemble with brilliance and finesse. The second movement in particular utilizes an interesting way of involving electronics to create an atmospheric, vast sound envelope for the audience. The location of a church building only enhances that effect. The virtuosic last movement further shows off and consolidates Tim's ability as a first-rate saxophonist and is a perfect condiment to this thoroughly satisfying composition.
Again, it is a pleasure and honor to be able to review Tim's work for his doctoral study. I support him emphatically and wish him all the best for a great future.
Sincerely yours,
Kenneth Tse, D.M.A.
Associate Professor of Saxophone
Vice President, International Saxophone Committee
Artistic and Executive Director, Hong Kong International Saxophone Symposium
[email protected]
1-319-335-1660